Posted on 2023-05-25 • No comments yet
Interview with Anjelika Krylova. In an interview she shared the plans of her students, emotions from the past season, and the new trends in the sport.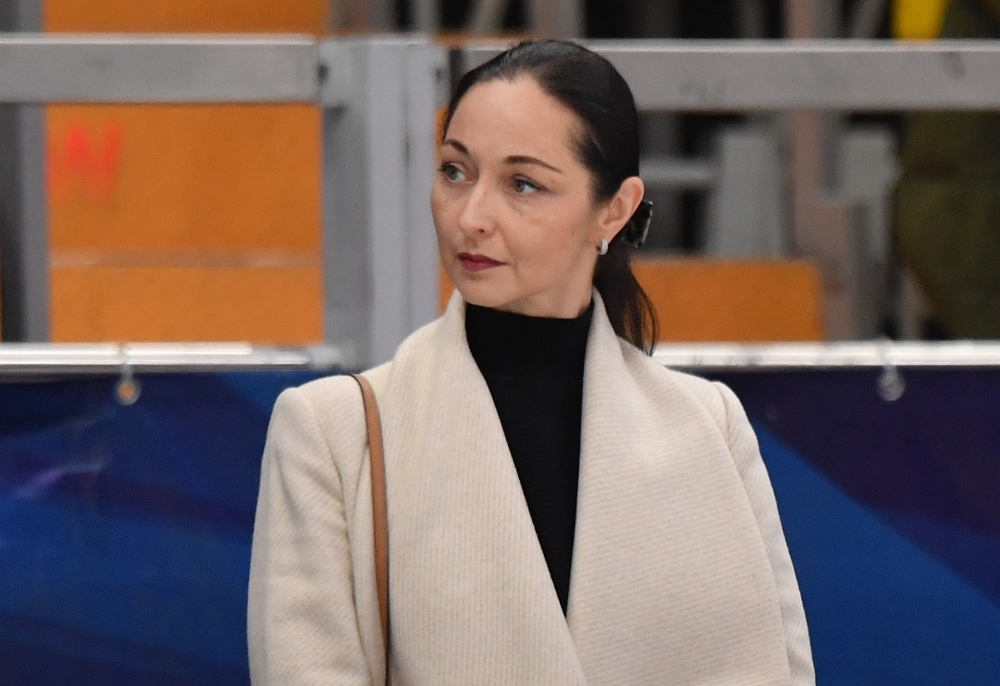 source: TASS dd. 18th May 2023 by Veronika Sovetova / sports.ru
The recently concluded season in Russian ice dancing could rival women's singles skating in terms of discoveries, transfers, and comebacks. A worthy competition for the senior pairs was presented by the former juniors Vasilisa Kaganovskaia and Valeriy Angelopol, who are trained under Krylova's guidance. For 24 years, she coached in the United States, with her most famous students being the French duo Nathalie Pechalat and Fabian Bourzat, as well as the Canadian pair Kaitlyn Weaver and Andrew Poje. She returned to Russia several years ago.
Do you consider this season successful for Vasilisa and Valeriy?
Anjelika Krylova: The season was quite good. Everything is progressing – there should be progress if there is work; otherwise, it would be pointless. We competed at the senior level for the first time this season, and it was very exciting for us. Yes, the kids are still young, and they could have continued competing in juniors. I don't think that Valeriy was quite ready for it when I mentioned this plan. It even shocked him a bit, but he said, "Well, if you think so, then we will compete at the senior level."
When we arrived for training in Novogorsk, some people told us, "Why are you doing this so early? Maybe you should stay in juniors a little longer?" But I stood my ground anyway. And if they weren't quite ready at the beginning of the season, well, time goes on. So I believe the season turned out to be quite good and productive. The skaters improved and showcased themselves. If they skated the same way at the junior level, you wouldn't recognize them. Junior skating isn't viewed the same way. But they were seen, and they were loved.
And how did experts perceive the new senior pair? Not long ago, Ilia Averbukh, for example, referred to them as the season's MVPs (Most Valuable Players).
Anjelika Krylova: I was very pleased when specialists, leading coaches in our country, started giving us compliments. It's great when they see your work. As a coach, I constantly have doubts, but that's normal. Yes, we didn't take any risks; they are very young skaters. But we wanted people to talk about us, and that happened, and it's my main reward as a choreographer.
You were a highly successful coach abroad. Does it mean you have to prove your reputation, your competence as a coach from scratch?
Anjelika Krylova: Of course, it's a different topic, different people. It's something that needs to be proven every season. Now, as we prepare for the next one, I constantly think about it. It's more challenging here than abroad. That's why thoughts about how our work will be evaluated push us to do even better than before, to come up with something new and interesting.
What are the skaters' immediate plans?
Anjelika Krylova: Just a few more May shows, and then we're off on vacation for three weeks. The season has been long, and we need to rest. Plus, Vasilisa has school exams, so she won't be able to attend some of the shows. She'll be preparing, taking online lessons. And Valeriy has college, and he'll also be dealing with that issue — he's transitioning to his second year. And then it's time to prepare for the next season.
Are the programs in progress?
Anjelika Krylova: We've already choreographed the free program and started working on the short program. Just a few days ago, the new rules were released, and we were eagerly anticipating them. There are changes regarding the music, the dance elements, and the choreographic sequence. We're trying to understand them. As dancers, we adapt to everything — in other disciplines rules rarely change as frequently as they do for us. We've decided on the music; now we need to place everything in its proper positions. It's a challenging process.
You have very versatile athletes; I believe they will handle everything.
Anjelika Krylova: They are truly amazing. Over the years of working together, we've become a close-knit team. The three of us understand each other without saying a word, and they agree on everything I suggest. It's really cool. It's important for an athlete to believe in their coach.
They express their wishes, and of course, I listen. In the end, we always come to an agreement on something. They believe in what I see in them and do what I ask, even some crazy things. It's a great quality that motivates and inspires me.
The next season promises to be very competitive for you since most pairs are currently working with Alexander Zhulin. These are primarily his new students: Russian champions Elizaveta Khudaiberdieva and Egor Bazin, as well as multiple European Championships medalists, Aleksandra Stepanova and Ivan Bukin, who are part of Zhulin's team now. New duos have been created, like Annabelle Morozov and Igor Yeremenko, and Irina Khavronina and David Naryzhny.
Anjelika Krylova: We understand that very well. And I deliberately gave Vasilisa and Valeriy time to skate in shows with renowned athletes, to show themselves as performers. Show performances are very important, especially since they have never done it before. We even sacrifice time of working on new programs for this. They need to gain experience, maturity, and artistry.
What do you think about Aleksandra Stepanova returning to the ice after giving birth?
Anjelika Krylova: It's very interesting. Sasha is a heroine because it hasn't been much time at all. Usually, it takes at least six months for a full recovery. And when that happens, she will feel completely different. Perhaps she returned too soon because people expect immediate results, regardless of when you become a mother. But Sasha is still doing a great job.
I'm intrigued by their collaboration with Zhulin because they trained with their previous coaches, Irina Zhuk and Alexander Svinin, for a very long time. They were deeply connected to them; it was such a serious bond. It will be challenging, but they are a fantastic pair, a pair of a different level compared to what we saw in the previous season. They objectively belong to a higher level, and only they could rival Victoria Sinitsina and Nikita Katsalapov.
What can you say about Khudaiberdieva and Bazin, whose season ended up being quite controversial despite winning the National Championships?
Anjelika Krylova: I see tremendous potential in Liza, but at some point, there was a certain turning point. She became somewhat different this season. I'm not saying that she and Egor were bad; I'm saying that she wasn't quite herself. But these two pairs we've been talking about, Stepanova and Bukin, Khudaiberdieva and Bazin, will be particularly interesting to me in the next season.
And based on the results of the World Championships, whom would you highlight?
Anjelika Krylova: All the pairs showed progress, and the final warm-up was very strong. Of course, it would have been great to see our athletes competing with them. Sinitsina and Katsalapov, as well as Stepanova and Bukin, could have fought for a spot in the top three.
But based on what I saw in Saitama, I had hopes for the victory of the Canadian pair, Piper Gilles and Paul Poirier. They deserved it and had been working towards it for a long time. Yes, Madison Chock and Evan Bates from the United States are magnificent, but this season belonged to the Canadians. It was disappointing because they performed admirably in the Grand Prix events and the Grand Prix Final, but ended up in third place. We had a similar experience with Weaver and Poje, who came to the World Championships and suddenly placed third.
I was also impressed by the Italians, Charlene Guignard and Marco Fabbri. In the rhythm dance, I would highlight the British duo of Lilah Fear and Lewis Gibson. They have style, choreography, musicality, and an exceptional dance partnership. I was also left with a very good impression of the Canadian skater Laurence Fournier Beaudry, who competes with Nikolaj Sorensen.
It was hard to imagine that Chock and Bates would lose.
Anjelika Krylova: They are a pair that has been together for years. Everything came together for them: the overall strategy and their skating. So even with a fall, they managed to take first place. I can't say that their programs and performances impressed me greatly, but their costumes always stand out. No one else has such beauty. I look up to them and pay close attention to that. I believe they are made in some theatrical workshops in New York.
I would like to ask another question about fashion. Recently, there has been talk of including same-gender pairs in figure skating competitions, consisting of either all women or all men.
Anjelika Krylova: I think it's just a publicity stunt. I don't think they will actually compete. But Canada, the United States, and Europe have gone crazy over this issue, hence the experimentation. Let's put it this way: it will be interesting to see, but I personally don't believe in it. For commercial shows, why not, they can skate in that format. But I still prefer to see the natural aesthetics.
Related topics: Anjelika Krylova, Madison Chock Evan Bates, Piper Gilles Paul Poirier