Posted on 2023-07-16 • No comments yet
Interview with Barbara Fusar-Poli for Russian media. About her training camp, switching sports citizenship, Dario Cirisano and Denisa Cimlova and admission of Russian skaters to competitions.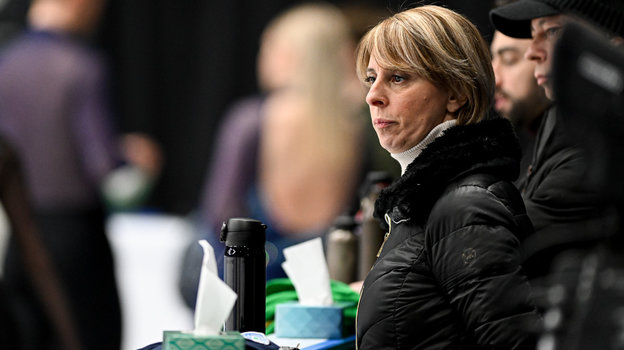 source: Sport-express dd. 14th July 2023 by Dmitri Kuznetsov
Barbara, how is your summer camp going?
Barbara Fusar-Poli: Excellent. We started training on Monday. There are 10 pairs here, and we're working a lot. We're in Pinzolo, a beautiful place with a great rink. We'll be here for a month.
I'm envious. So, there's no crisis in European figure skating if you have 10 pairs.
Barbara Fusar-Poli: No, we don't have any crisis. There are plenty of teams, thank God.
Does the government support figure skaters in Italy, or is it more of a private sport?
Barbara Fusar-Poli: No, we don't have the kind of government support that Russia has. But the Italian Federation helps. For example, Guignard/Fabbri, because they are second in the world. But young promising pairs also have a chance for support. All the other foreign pairs pay money for trainings. Sometimes their federations help them.
How international is your camp?
Barbara Fusar-Poli: We have Italians, two Swiss pairs, the Netherlands, Denmark, and Denisa and Dario, who are not yet an international pair. Maybe they will compete for Italy.
Do you see progress in them?
Barbara Fusar-Poli: Absolutely, they are doing good work, tremendous progress. We have already chosen the music for their free dance and are working on a program. The skaters work very well, they love each other, they enjoy being here with me. And we love them. They have the opportunity to skate with Charlene and Marco, one of the best pairs in the world. It's a great example for them and other skaters.
When you say they love each other, what do you mean?
Barbara Fusar-Poli: I mean friendship, partnership on the ice. They love skating together, they enjoy ice training. Every day, improvements are visible.
What was the most challenging aspect at the beginning of your work?
Barbara Fusar-Poli: When you start working with a new pair, you inevitably encounter problems, different schools, even styles. But Dario trained with me in his youth for two years, I know his skating, his personality. And when he was looking for a partner, I messaged him, "Dario, I have a good girl for you." By that time, I had been working with Denisa for four years. I was sure that she would be a good match for him, and they would work well together. They wanted to get to know each other, so they set aside two weeks to try skating together. After three days, they said they were ready. Although I already knew on the first day that it's a pair (laughs).
They are a good match, their skating quality and styles complement each other, and everything has been going so smoothly. Well, not exactly easy, of course, because they started working on new lifts and elements. They can't use any of the pair elements from their previous programs since they have never skated together before. And we decided not to use anything from their programs with their previous partners. We want to create something new! And it's working so far. I love the music. As for the rhythm dance, we haven't thought about it yet — we don't know if they will receive a release from the Russian federation or if they will compete this season. I really hope they will, if not from the beginning, then maybe from the European or World Championships. But we are working, and even if the season is missed, we'll keep the program for the 2024/25 season.
Can you tell me what music it is?
Barbara Fusar-Poli: No-o-o, I won't tell you! But it's something very choreographic, not about love with regular music.
What is it like to work with a pair that doesn't have a definite future? I mean, you don't even know if they will compete. Why did you take them on?
Barbara Fusar-Poli: Because they can have a future. They are good kids, willing to work a lot. They need trust. Yes, they don't have permission yet, but they are young. How can federations keep young athletes without competitions for two years? It's unfair. They are doing sports. And Dario hasn't competed internationally for almost two years! That's enough. Two years without competitions at this age is enough! I understand that Russia is going through a difficult moment, there is a military conflict (the wording has been changed due to Russian legislation. – Editor's note), that's also a problem. I feel sorry for Russian athletes, I would like to see them at competitions. Because we're talking about sports. Dario would like to compete for Italy, not Russia. I hope the federation understands that. Because he hasn't competed internationally for a long time. The Russian federation is very wise, they have strong skaters, they understand how this sport works. They are professionals.
You mention some hope, am I correct in understanding that there is progress toward obtaining the release?
Barbara Fusar-Poli: Of course, we are working in that direction. But we don't decide that question. The rules are created by the ISU, and there are federations that should speak up and decide. We are simply working and aiming to create champions, great figure skaters. That's our role — to develop figure skating. Even if a skater cannot compete for the same country, we should give them a chance. We should give athletes more freedom and help them.
I remember how before the Olympics in Turin, some people fought to qualify for them, and a passport was required at that time. Before the Olympics, you need to obtain the citizenship of the country. We're not asking for citizenship now; we'll think about it in the future. Denisa has been living in Italy for several years; she's a resident, and this is her home. She will apply for a passport when she can speak Italian and pass the exam. And Dario already has an Italian passport. We're simply asking for the opportunity to compete. Not even at the Olympics. It's wrong to keep figure skaters without competitions. We're talking about sports, and sports should be fair. And we ourselves should be fair in it. Sports are about the freedom to compete. You're given that opportunity, and then you step onto the ice, court, or field, and the better performer wins. But give all of us the chance to compete and earn our places! That's the essence of sports.
Barbara, sorry, but I have to ask — you have probably heard that Russia released the pair Davis/Smolkin to another team. I don't see a difference between the two situations. Do you?
Barbara Fusar-Poli: Listen, and I'm happy for them! I truly am happy for Diana and Gleb. They have the opportunity to compete, and I hope they can participate in tournaments very soon. I also hope the same will happen for Dario. But I'm not the one making decisions. I don't know why it happened with Diana and Gleb. Because I'm not in Russia, and I'm not coaching them. But thanks to the Russian federation for this approach that allowed them to leave the team and have the opportunity to compete.
Many spectators in Russia and even in Europe, I suppose, would say that ice dance is difficult to understand. In your opinion, should something be done with the rules in this discipline, or are they doomed to remain as they are?
Barbara Fusar-Poli: Yes, we have so many rules, you know! They are not easy to understand, but we are simply trying to make ice dance more interesting for the audience. We want people to come and watch us. And when you dance and do it well, people still follow you. But at the same time, we have to fulfill all the technical requirements, steps, twizzles, one-foot blocks. And we want to enjoy it too! That's why the ISU technical committee introduced the theme of the '80s in the rhythm dance and added some choreographic elements. We have to entertain the audience; in a way, dance is an art.
Maybe you should just go back to the 6.0 system?
Barbara Fusar-Poli: No, no, I liked the new system; it brought a leap forward. Skaters now perform better than they did fifteen years ago. The development has been fantastic. And the system has made almost every skater better.
I have a training session coming up, and I wanted to ask you for a favor. As you know, I'm not on social networks; I decided not to be. And I wanted to ask… Maybe you can convey a message to Roman Kostomarov? A message of hope. He skated next to me, and I watched him with bated breath when he faced those difficulties. Now I see that he is coming back to life. I want to wish you, Roman, the very best. He is truly a strong person. He has already showed that on the ice when he won the Olympic Games, but now… it's just wow! I am so proud of him, simply bravo. Wonderful doctors — I understand that in Russia you have good hospitals, good doctors. They worked wonders. I am so happy for him, for Oksana Domnina, and for his family, his children. It's simply incredible. Please tell him that he is a hero.
We'll pass it along, and I hope he reads it. It's really cool that you follow the news in Russia. Not all connections between us are severed.
Barbara Fusar-Poli: Of course, I follow the Russians. Russians have always been good in this sport, and I follow the best. In all disciplines — the ladies, pairs, ice dancers, and men's singles, like Plushenko and Yagudin. You also have good singles skaters now. When a country is strong, you have to acknowledge it. Yes, we Italians are strong too. Maybe we are a small nation, but we fight like lions.
That's why I don't like not seeing Russians at competitions. It's great when all athletes are present at competitions, and international events should truly be international. I understand that there's a military conflict (the wording has been modified due to Russian legislation – ed.). But in some sports, Russians compete without problems — like tennis and others. In figure skating, they don't. And I feel sorry about that. Of course, it's good for other skaters because they move up one or two places. But it's sad for the athletes, even though the reasons are understandable.
Because of that, some Russian figure skaters want to leave Russia — they want to compete. It's important to address this reason. They want to leave Russia not because they don't love it or don't want to live there. They surely love Russia. But they want to pursue their favorite activity, and that's why they leave.
If ISU asks you before the Olympics in Milan — should the Russians be allowed to return, which could affect your medal prospects, or should the suspension be maintained?
Barbara Fusar-Poli: No, no, I don't make such decisions, I can't answer that. But I will respect ISU's decision, and I won't oppose it. If the Russians come, we will certainly compete against them. If not, we will compete against others. But in Beijing, Sinitsina/Katsalapov were second. They are no longer competing now. Stepanova/Bukin were behind our pair. So, everything is fine for us. We are strong, we are preparing. If they want to return, then please.
Related topics: Barbara Fusar-Poli, Dario Cirisano