By Gina Capellazzi and Maura Sullivan Hill, Team FSO
Photos by Melanie Heaney, Robin Ritoss and Greta Crafoord

Editor's Note: At time of publication, Greta and John Crafoord were scheduled to compete at Warsaw Cup in Poland. Since the release of this article, the Crafoords have withdrawn from that competition to focus on their second Grand Prix event.
Swedish pair team Greta and John Crafoord had about a month to prepare for 2022 Skate America, from getting their pair elements back to choreographing a long program. Just a year prior, in Oct. 2021, Greta suffered a season-ending and devastating injury in what she describes as a "freak accident."
She broke her kneecap, fractured her jaw, and lost a front tooth when she slipped and hit the boards while warming up. The road to recovery was long for Greta, who had multiple surgeries and had to relearn how to walk and rebuild the muscle strength in her legs before making a comeback on the ice. The Crafoords, who are twins, sat out of competition for more than year, and Skate America marked their return to competitive ice and their Grand Prix debut. They skated to an 8th place finish, earning scores just a few points below their personal best scores from before the injury.
The last — and only — time a Swedish pair team competed at the Olympic Games was in 1952. The 21-year-old twins hope to be the next Swedish pair to skate on Olympic ice, while also inspiring future generations of skaters in their home country to take up the discipline.
The Crafoords moved to the United States from Sweden in 2009 for their father's job, and their parents still live in California. The family lived in Indiana first, and Greta and John spent time training in Colorado Springs and California before moving back to Europe to train with 2018 Olympic Champion in pairs Aljona Savchenko. First, they trained with her in Oberstdorf, Germany, and now they train in the Netherlands, where Savchenko is also the head coach of the Dutch figure skating team.
Next, the Crafoords will compete from Nov. 17-20 at the Warsaw Cup in Poland, one of the ISU Challenger Series events. They also were just recently assigned to their second Grand Prix event – Grand Prix of Espoo in the Finland – Nov. 25-27. Before they take the ice in Poland, the pair took the time for a Q&A with Figure Skaters Online. Get to know the Crafoords on and off the ice, learn how they came back from such a serious injury, and hear about their goals for the season ahead and beyond:
Figure Skaters Online: When did you start skating? When did you start skating together as a pairs team?
Greta Crafoord: In Sweden, learning how to skate is something that most children do. Although we stepped on the ice already at age three, we didn't start skating in a club until age five and went to our first competitions when we were eight.
FSO: Who is the older twin?
Greta: John is older, only by a minute, but he views himself as the protective older brother.
FSO: What is it like skating with your twin? What are the positives about it, and what are some negatives about it?
Greta: John and I have never had any other partners, so we don't know what it's like to skate with anyone else. We are super close — he is my best friend and there is no one in the world that I trust more. Skating with your twin is a huge positive, because we know each other so well [that] most of the time we don't even have to talk, we just know what the other is thinking. Because we skate together, live together, and are such good friends, we spend pretty much all our time together. We do our best to keep skating and life separate, but sometimes the two blend together.
FSO: What do you like about skating pairs? What don't you like about skating pairs?
Greta: I love how many elements pairs has and how many different areas of improvement there are. For me, there is no better feeling than landing a throw or being in a lift — it's like flying! There are also so many different things to master and sometimes it feels like there aren't enough hours in the day to get better at them all. At the same time, pairs can be scary and there are definitely mental hurdles to get over.
FSO: When did you come to the United States with your family, and was it for your training? What was the hardest part about coming to the United States?
John: We moved to the United States in 2009 when we were eight, because of our dad's work. We first moved to Indiana, and that was when we started skating more seriously. We moved two days before school started and did not know a word of English, so it was definitely tough not being able to talk to the other kids. I think the hardest part was simply being in a completely new place, with a different culture, different language, and leaving family and friends that we had grown up with. But we have always been a very close family and Greta and I had each other, so it never really felt too hard, just exciting.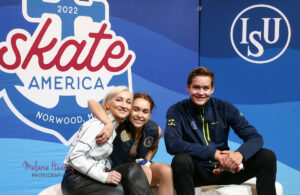 FSO: You are now coached by Olympic Champion Aljona Savchenko. When did you start working with her and where are you training with her?
Greta: We are training in the Netherlands at Thialf in Heerenven. She recently moved here to be the head coach of the Dutch team. We decided to move to Germany and start working with Aljona in Oberstdorf last year, after Nebelhorn, to be coached by her, and then came with her to the Netherlands.
FSO: Describe Aljona's coaching style and what kind of coach she is. What do you like about working with her?
Greta: She has always been one of my idols and being able to learn from someone with so much experience and knowledge is incredible. She is definitely tough, but not too tough. As she has so much experience, she knows exactly what we are going through, and the appropriate amount of training and pushing she can do. She was able to get us ready for Skate America in four weeks after being off the ice for a year. That speaks for itself; she knows what she is doing! She is also incredibly supportive and caring about her students, which makes the training environment fun and encouraging.
FSO: She also choreographed your programs. How did you decide on your music, and what kind of choreographer is Aljona?
John: We decided on the short program music because we have always wanted to skate to Coldplay. The Shibutanis (Maia and Alex Shibutani) skated to different Coldplay songs as we were starting our pairs journey and it inspired us! The song "Fix You" also fits perfectly with our challenges this year, giving us a strong emotional connection to the music. For our long program we wanted to try something we haven't done before. The dark theme of "In The End" is new to us, and we feel that new types of music are the best way to push yourself and improve as skaters.
Aljona is a great choreographer. I think her own experience performing so many different programs has given her the knowledge to know what works and how to get the most out of our abilities. She has always been a skater I enjoy watching for the choreography as well as the elements, so I knew making our programs would be something she could succeed at.
FSO: Do you train with any other skaters? How many hours a day do you train?
John: There are a group of girls that skate at Thialf with us, and the two Dutch pairs are also here for periods of time. The training at Thialf is a little different from other rinks we have been at. It is more of a program; we have group warm up, do various workouts, and activities every day with an off-ice coach, Susanne Kappetein, who works with most elite athletes of various sports in Heerenveen. We are then on the ice for about three hours each day with Aljona. The total number of hours depends on the day, but I would say we train on average 6 hours per day.
FSO: Greta, tell us about your injury last October and the road to recovery.
Greta: I broke my kneecap, fractured my jaw, and lost my front tooth at the end of last October [2021]. It was just a freak accident. We were in Germany, and I slipped off my edge going very fast and hit the boards. I was in shock when it happened and got up and walked back to the locker room. A couple of days later, my knee was still super painful and swollen and an X-ray confirmed that my kneecap was completely broken horizontally in half. The next day John drove me to the airport and I flew home to California by myself to get surgery and so that my parents could take care of me.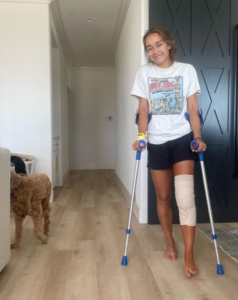 The doctor placed two screws through and a wire around the kneecap to keep it together. Then I was in a full leg brace for 12 weeks, 24/7. I was not allowed to bend the knee at all until after two months, when my brace was placed in a five-degree increase every week, to slowly progress to bending to a full 90 degrees and more. At this point I had lost all of my leg muscle and I had also lost the "connection" to my muscles, so I could not lift my leg or walk without crutches. I learned how to walk again with physical therapy and slowly regained the ability to bend. It took six months for the bone to fully heal back together and at the 10-month mark, which was the last week of August, I was approved for surgery to remove the wire. The wire was creating divots in my kneecap and rubbing away the bone which was causing serious pain.
I am still struggling every day with pain, especially from certain elements, but I can feel it slowly getting better and the doctors have assured me that skating is not causing harm to my knee, even if it can be painful sometimes.
Getting back to elements was tough, especially since Skate America was so soon after stepping back on the ice. I have an amazing support system with John, Aljona, and my family, and they helped me get over mental hurdles and gave me all the time and support I needed to relearn how to skate again.
The last year has been a blur for me. When I look back, I can't quite believe how much has happened and what we've been through. But I do know that being off the ice made me realize how much I wanted to be on the ice, that John and I had more to do. Of course, I was scared when I tried "new" elements, but that fear was nothing compared to the excitement of getting to do what I loved again.
FSO: John, what did you do while Greta was off the ice? As her partner and brother, what was it like to see your sister and partner go through this?
John: It was obviously very hard to hear the diagnosis of her knee, as a partner and as her brother. One of the big parts that makes me enjoy skating so much is getting to share it with Greta, and that is something I missed quite a bit when she was off.
At the beginning, it was hard to stay motivated, with me being sad for my sister. While she was off, I continued my training in Oberstdorf, practicing my singles elements and doing pair elements with Aljona. I consider this a positive, since I gained insight from one of the best, making me ready for when Greta started skating again!
FSO: What was your experience like at Skate America? What are your thoughts on your performances for your first event of the season and first Grand Prix?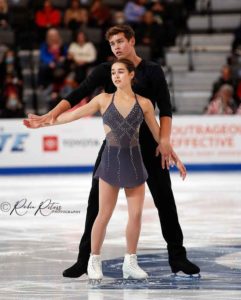 John: Skate America was an amazing experience. It was by far the biggest competition we have been to, as we withdrew from Europeans and Worlds last year. Since we had only about a month to choreograph a long program and get all our elements back, we decided to go with a simpler program content. Overall, we are very happy with our skates. Greta did a fantastic job and I'm very proud of her going out on the ice and skating in front of so many people with little time to prepare. Her throws were fantastic!
FSO: What did you learn from the event?
John: It felt like it was a great start to the season. We went back to training very motivated to continue improving. One thing we learned from the competition is to trust the process and skate for yourself. Our focus wasn't a specific placement or a certain amount of points, only to be proud about being there and to enjoy the moment!
FSO: When you are not skating, what do you like to do? Are either of you in school and if so, where and what are you studying?
John: We are both in college, majoring in Computer Science. We are able to do most of it through distance learning and are about halfway through our degree. This takes up most of our time when not at the rink. A thing I like to do when I'm not skating is to cook. I usually try to make something different every day. I, however, leave the desserts to Greta as she loves to bake, while I enjoy eating the products!
FSO: What are your goals this season? What are your future goals?
John: One of our biggest goals of the year was being able to skate again, which we have already accomplished! Other than that, we want to compete at our fullest potential at the European Championships, and get the technical requirements for the World Championships. Since we withdrew from both last season, we want to go this year to prove to ourselves [that] we can come back stronger! We have many international competitions planned, feeling like lots of competitions is the best way to get back to being comfortable competing.
A future goal of ours is to go to the Olympics. It has been many decades since a Swedish pair attended the Olympic Games and we are hoping to change this. Another future goal is to inspire the rise of pair skating in Sweden. Us going to international competitions hopefully inspires skaters and future skaters in our country to give it a try.
FSO: What are you most proud of so far in your skating career?
John: We are proud of everything that we have accomplished so far, overcoming many injuries and still competing at the highest level. We think it is so important to always find the positives in everything, and being proud of every little step is key to improving.