Posted on 2023-08-02 • 1 comment
Translation of an article about Russian pair skater Julia Antipova who almost died because of anorexia.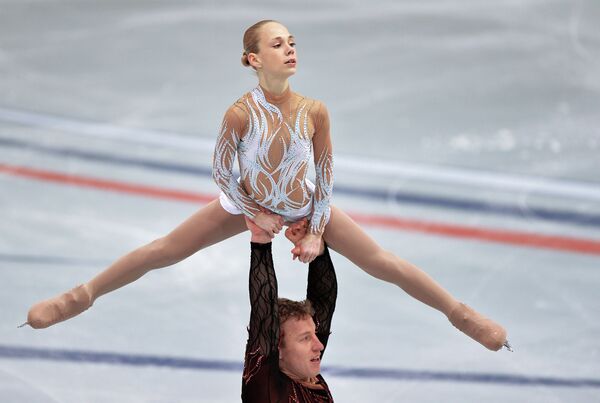 source: Sport24 dd. 20th July 2023 by Anastasia Loginova
It's no secret that figure skaters, especially female ones, need to control their weight. However, often the demands placed on female athletes are so harsh that they lead to serious health consequences. Sixteen-year-old Julia Antipova narrowly escaped death due to anorexia.
Young Julia started skating in her hometown of Zelenograd. She showed promise in jumps, which quickly made her a prospective single skater in her city. At the age of 14, Antipova decided to switch to pair skating and teamed up with Nodari Maisuradze in Natalia Pavlova's group. In their first season together, Julia and Nodari immediately made it to the national team and showed decent results. However, their collaboration with Pavlova lasted only a year, despite all their achievements.
"At one point, when I started gaining weight in the summer due to puberty, they put me on a diet. My breasts started growing, my hips – which are not needed in pairs skating! Natalia Pavlova really monitored every hundred grams of weight. She could start yelling at you during training, she would say anything in those moments. And my partner supported her: 'Julia, if you don't want her to yell at you like that, lose weight.'
When your partner and coach unite against you, it's very tough. Nodari could have said, 'Natalia Evgenyevna, don't yell, my partner is fine, I can lift her easily.' But he said something completely different. Pavlova had been his coach for a long time; they had worked together in St. Petersburg, so Nodari was always on her side. But the approach was such that the boy was a god, and the girl was expendable. Although I believe that the psychological resilience of a girl in a pair is very important," Antipova later revealed in an interview with "Sovetsky Sport."
In the spring of 2013, the conflict with her coach escalated to the point where her parents insisted she leave the sport.
"My parents and I went to the federation; it was a long conversation. My parents said, 'We want to take Julia out of figure skating. Our child lost eight kilograms. Everything could end very badly.' They replied, 'How can you take her out? There are high stakes on the pair Antipova/Maisuradze; do you know that you are the alternates for the Olympics in Sochi?' Then my parents were asked to leave the room, and they left us alone with Nodari. And it began: 'The state invested so much money in you, and you want to leave.' I wanted to say a lot there. But I am a conscientious person, and those words affected me. Although I no longer wanted to do figure skating. I didn't want anything anymore. When I came out of the room, I hugged my dad and cried, 'Dad, I had to say that I'm staying… I don't know how it happened…' " the athlete recounted.
Antipova didn't want to stay with Pavlova. As an alternative, she considered Nina Mozer – her figure skaters looked truly healthy and not exhausted. However, she didn't manage to join Mozer's group, but Julia and Nodari joined the group of Artur Dmitriev. Under the guidance of the new coach, the pair learned the quadruple twist. In March 2014, Antipova/Maisuradze made their debut at the World Championships and reached the top 8.
In the post-Olympic season, many had high hopes for them. Before the break, they choreographed their programs and planned their summer training camps – but the pair never appeared at competitions. Antipova arrived noticeably thinner at the sports base in Sochi, although Dmitriev strongly recommended that she gain weight. In this condition, the medical team did not allow Julia to train.
"I should have at some point suspended Julia from training, but I didn't do it. We had two very serious conversations. I told her that if she managed to start this 'not eating' game with her body, then she is very strong and capable of completely switching to 'eating.' After all, the illness happened not because she was trained that way, but because she had a psychological breakdown," the coach recalled later.
The figure skater spent two months in the FMBA clinic with a diagnosis of "nervous anorexia." They tried to feed Antipova through a feeding tube and tried to help her gain weight. However, there were no significant improvements, so the athlete's parents started looking for treatment options in other countries. A specialized center was found in Israel, but initially, the federation did not plan to provide financial assistance to the national team member.
"We see two main problems. First, there is a lack of specialized specialists in anorexia in Russia and no specialized clinics for such patients in our country. Second, there is a lack of understanding or an inability to understand the root cause of the problem. And Julia's problem is that during her sports activities, she was convinced that her main enemies were water, bread, and pasta. But while pasta and bread may not be that crucial for the body, a person simply cannot live or exist without water. You should have seen how she dealt with the water problem! She introduced water into her body not by drinking but by taking showers. She did not drink more than 100 grams of liquid a day and constantly ate lemons to avoid thirst. This is where she needs help from specialized psychologists and psychotherapists," argued the athlete's father.
Later, the Russian Figure Skating Federation promised to cover Antipova's treatment at the Schneider Children's Medical Center. In Petah Tikva, Julia arrived with very low indicators – her weight was only 24 kg with a height of 148 cm, and her pulse fluctuated around 35 beats per minute. The girl had weakened so much that she could only move around in a wheelchair. Israeli doctors did everything possible to help Julia.
In the first month, Antipova gained 5 kg, and the critical stage passed. However, the Russian Figure Skating Federation (FFKKR) refused to support the figure skater further.
"The bill for treatment in Israel amounted to 138,000 US dollars. This sum exceeded the allocated financial assistance by several times. The funds were transferred.
We wish Yulia a speedy recovery and await her return to Russia. But our promises regarding financial assistance for Antipova's treatment were already fulfilled to the maximum, and the amount we compensated was unprecedented – no other figure skater has received such funds for treatment. We kept our promises, but in the future, FFKKR physically cannot provide any more financial support," said Kogan.
In many countries around the world, the federation would have been sued for such actions, but, of course, not in Russia.
The search for a solution to the problem had to be conducted worldwide. Social media groups were created with appeals to support the girl financially – treatment could not be abandoned at the first step, as there was a high risk of a relapse of the terrible disease. With the help of caring people, almost 1 million rubles were collected. Step by step, Antipova successfully went through all stages of recovery, and by the time of her discharge from the Schneider Children's Medical Center, her weight had increased to 50 kg.
"A debt remained, and it was substantial – treatment in Israel is very effective but also expensive. But they saw our position. Firstly, they calculated the treatment at rates significantly lower than those for foreign citizens. Secondly, the financial department of the Center offered my parents to sign a contract to defer payments for two years. This option was difficult but feasible for the family. And now my parents diligently send the amount specified in the contract every month," explained the figure skater.
Gradually, Antipova added small training sessions and runs around the medical center's territory to her routine. Thoughts of returning to elite sports never left her, so by the end of 2015, the girl returned to the ice. However, she was no longer seen on competitive ice; only in small roles in shows.
Related topics: julia antipova